Sterling Lions Club & My Guys Moving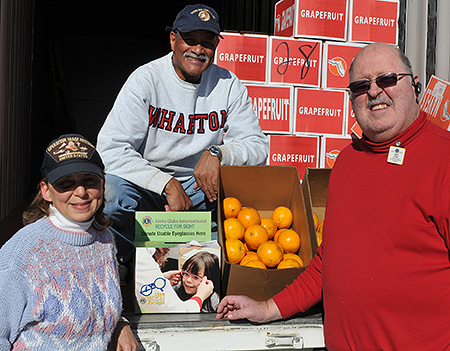 Sterling, Virginia
(December 2, 2011) – As a child, the Lions Club provided Michael Ryan with his first pair of glasses when his parents couldn't afford them. Years later, a sign blowing across the road caused him to stop at a Citrus sale, just like today's event, which got him involved in the Lions Club. Now, as the Second Vice District Governor of Lions of Virginia, he gives back to the community by helping with these events.
My Guys Moving & Storage
also lent a hand by donating the use of a 53′ moving trailer to the
Sterling Lions Club
to store boxes of Indian River Ruby Red Grapefruit, Florida Navel Oranges, and Orlando Tangelos for the annual Florida Citrus Sale. All proceeds go to those in need of glasses and hearing aids, but who can't afford them. The Florida citrus fruit sale will be from December 2-4, 9am-5pm in the parking lot of the Dulles Town Crossing Chick-fil-A at 45440 Dulles Crossing Plaza, located off Nokes Blvd. at Route 28 in Sterling, Virginia. For more information, or to place an advance order, please contact Randy Mook at (703) 430-0043.
Sterling moving company