Helping A Veteran Family: Operation Finally Home
Veteran Family Gets New Home
Operation FINALLY HOME and local builder Miller & Smith proudly came together along with multiple local businesses to provide Veteran U.S. Army Sgt. Timothy Goodrich and his family a brand new, mortgage-free home in Stafford, Virginia.
Earlier this month, Jo Hall of Miller & Smith and Project Manager for Operation FINALLY HOME (OFH) contacted My Guys Moving & Storage to see if the moving company could help the cause. CEO, Pat Burks, contributed by providing labor and transportation at no cost to the Purple Heart recipient – an American military hero who sacrificed much to defend our freedom.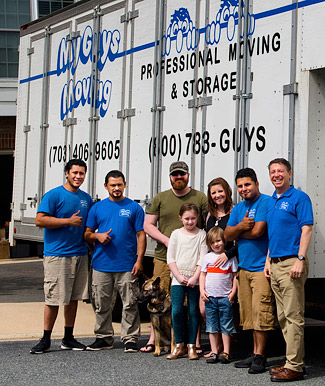 As the My Guys crew (Alex, Hector & Yousar) prepared the family's belongings for the move to the new home, Sgt. Timothy Goodrich shared with me how he received Operation FINALLY HOME's 2017 award for the
Washington Metro Area
.
A representative from Washington DC's team, the Wizards, contacted him to say they wanted to honor Vets at a basketball game on Veteran's Day. They said to bring the family; the tickets would be free, but please arrive before the second period. With metropolitan traffic as it, Sgt. Goodrich got his family and service dog to their courtside seats just in time.
At the break, he stood up expecting to be joined by other Vets. Instead, he stood alone as a video of his life played on the giant screen in the stadium. It started with scenes of his boyhood, growing up in Louisiana, marrying his high school sweetheart, and culminating in his service to our country: his first tour to Iraq, his second to Afghanistan, where 10 days after the birth of his second child, his outpost was attacked. His right jaw was shattered and the entire right side of his body was scattered with rocket fragments. At the end of video, the OFH Foundation announced that he and his family would receive a new custom-built home, free and clear, as thanks for his service to our country. For more details on Sgt. Goodrich's life and story, visit
Operation FINALLY HOME
.
His wife, Jacqueline Goodrich, drew on their combined experiences in the military to start
The General's Kids
– a non-profit designed to help our nation's little warriors, who are facing the life-changing injury or illness of a parent. The organization focuses on infants to teenagers of ill and injured veterans, and helps them connect with other children across the nation, who are going through similar struggles. The goal is to help comfort and lighten these kids' hearts in ways that range from the simple sharing of a hand-written postcard to fund-raising for college scholarships and Disney vacations. If you'd like more information on The General's Kids or would like to contribute to this worthy cause, visit
TheGeneralsKids.org
The dedication of the OFH home to Veteran U.S. Army Sgt. T. Michael Goodrich and his family occurred on Friday, May 19, 2017 at the community of Embrey Mill located in Stafford, Virginia. Thank you to all the other contractors, suppliers, donors and the community who have contributed to honoring this family with a mortgage-free, custom-built and beautiful home!