Free Admission to Moving Franchise Expo in Dallas, TX
Looking for a Franchise?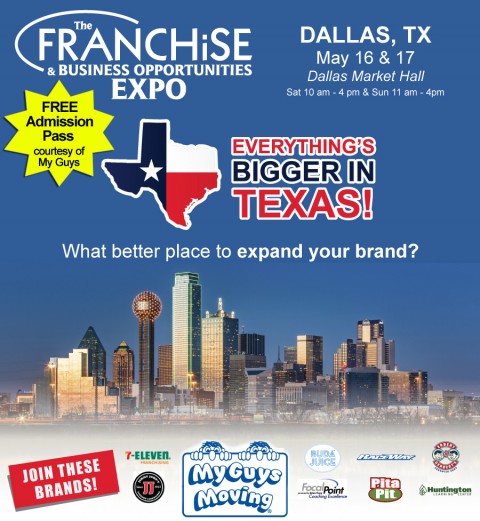 For 2 Days Only – Join My Guys Moving & Storage at the Largest Franchise Show in Dallas on May 16-17, 2015 at Dallas Market Hall, North Hall where you can see all your business ownership opportunities in one location. Visit us at Booth#303 and we'll give you a Free Gift!
Get your
Free Admission Pass
.
Meet Face to Face with Successful Franchises & Businesses looking for Franchisees.


Owning Your Own Business Can Be Easy and Affordable, Learn more at the Franchise Expo.


Representatives from the Hottest Money Making Opportunities from across the Country.


Learn About Becoming a Franchisee. Be in Business for Yourself, But Not By Yourself!


Explore both Full-time and Part-time business opportunities that you might not know about.


Enjoy Seminars & Workshops on Starting Business the Smart Way.
Moving Franchise
If you can't make it to the franchise show, you can always contact us directly for your own My Guys Moving franchise!
Our memorable brand gets the calls because it's seen as friendly & approachable in an industry that is usually associated with stress and concern. People usually like the opportunity of living in a new place, but they rarely like the act of moving. That's where our trained, professional movers come in! As part of the MY GUYS team, your guys will be trained in our two-story, simulated townhouse so they make their mistakes in our house, not your customers.

During that time, you'll learn how to use our simple business system, along with techniques for running your operation and marketing your business. A benefit of a MY GUYS franchise is that it's scalable and can be run from your home until you have grown it large enough to need commercial space. Start small, grow big, and maximize your investment! Call us today at 703-657-1404 to become "One of the Guys."