Moving or Relocating Your Business?
These days, the economy is really limiting growth of business in some industries. However, there are plenty of industries that are still growing strong! Many of these businesses are rapidly growing and expanding. With this growth comes hiring new employees and, the inevitable: having an office space that is far too small for the amount of employees your office houses. And, remember – moving an office is usually not something that can be done by yourself and with friends. 
Hiring professionals is essential when moving offices.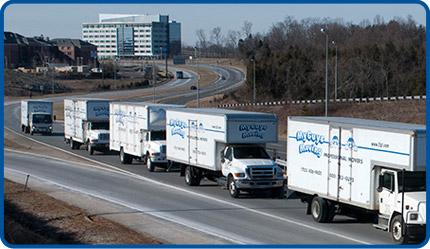 With many businesses (especially in the Northern VA area) growing and hiring new talent, the need for a bigger office building is essential. It can be a scary thought – where will we move? how big does our space need to be? Do we need to have extra space available for future growth? But, these answers can be figured out pretty quickly and without a lot of stress. Search the area where you want to set up shop. Find a building that fits your price range and has extra room incase of further growth (that way there's no need to move AGAIN). After this, next comes picking a moving company that does local and long distance moves. Check out prices and be sure to get plenty of quotes. Make sure you choose a moving company with great reviews, not necessarily just the cheapest one you can find. The weekend is the best time for an office move, it does not cut into business and makes things stress free for your employees. Before the move, make sure you have your personal and private stuff packed yourself. If you have heavy machinery and other expensive electronics (copy machines, computers, etc) make sure you talk to the movers and devise a plan on packing and moving these things in a safe manner. If need be, hire extra people on the side to help with the move. While this may cost a little more money, it can be well worth it and help make sure you have packed up everything you will need to make your office move successful. Remember – moving your business to a new office can be a great and fun experience, but, it can also be stressful and time consuming.
Choosing the right moving company
, the perfect building and location and scoping things out first will help you put tremendously and cut down on the amount of stress involved with the move.