5 Specialists for Your Senior Move Team
When it is time to consider Senior Living, the process can be daunting. The good news is, there is a process. It takes teamwork, but the Team Members are right here to help. The National Association of Realtors has a Certification course for Realtors who specialize in working with older folks. Only 2% of Realtors nationwide are Seniors Real Estate Specialists (SRES). That means extra training on the intricacies of coordinating a successful Senior Move. It also means having the network to put together a great Move Team.

Who should be on a Team? First, of course, is Family and any financial/health advisors you use. Next, some homework, a great publication called the Retirement Living Sourcebook, which lists literally hundreds of senior housing choices around our area. From Senior Apartments to Independent Living; from Assisted Living to Memory Care, from fee-simple one-level living to Life Plan – find most of them there. You can order one sent to you or view editions online at www.retirementlivingsourcebook.com

The challenge is, however, how to interpret the info. How does one make sense of all the options? To the rescue are folks who know the different housing options well, and make matches between your needs and the different communities. By far the best are the local experts who work with these communities on a regular basis. A great team member is Caring Considerations, whose principals have worked with local families for well over a decade, and are Certified Senior Advisors. Heidi Garvis and Debbie Aggen are superb match-makers.

All of us have clutter. We did when we downsized last year. We did our own de-cluttering – purging papers, getting rid of broken items, paring the memorabilia down to things we really wanted to keep. This can be one of the most overwhelming parts – but a professional De-clutterer can be a godsend. A great team member to assist is The Clutter Nanny in Alexandria.

Once the decision has been made to move to a particular community, the next step in the process is to take a floor plan of the apartment and decide on what to bring. Often, the community will have someone to assist, but your Seniors Real Estate Specialist will be able to help, or direct you to an organizer/planner to help. One tip is that, by moving before selling your home, you have time to adjust the things you take initially, and go back and forth to your home to get the best arrangement.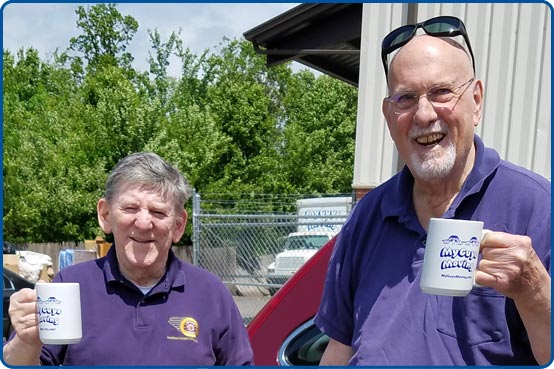 When moving day comes, a good moving company who specializes in Senior moving services is crucial. Most will help not only pack up the things you want to take, but will help unpack and organize at the new home. You can hire a Senior Move Manager to supervise, or go to Senior movers. My favorite is My Guys Moving & Storage. They can also help distribute furnishings to family across the country if needed. We used them for our personal downsize last year, and they were fantastic. Great team member.

Now you are moved – but the old house still has many, many things in it and is not ready to go to the real estate market. Here is where that Seniors Real Estate Specialist really gets to work. So, first, gifts to family and friends. Usually best decided upon by you, but arrangements can be made to ship items as needed. Next, sales of items. Some expensive pieces are best sold through an auction house like Quinns in Falls Church or Potomack Company in Old Town. Less expensive items can be sold through an estate sale. Favorites are Sales by Gale and Four Sales Ltd. All top draft choices for the Team.

Once items are sold, then come donations. The big names such as Goodwill, Purple Heart and Salvation Army will pick items up for re-sale at their stores. Smaller donation entities often give the items directly to the community they serve instead of re-selling. If you have a favorite cause, that always feels good. Your SRES expert can coordinate donations and sales.

Next comes discards. In some parts of Alexandria and Fairfax County, there are "free" special pick-ups of bulk items. (Nothing is free – it is in your taxes). Once your regular trash pick-up is exhausted/overloaded, you can bring in a cleaner/hauler. They remove everything left in the house and on the premises, and typically try to recycle as well as haul to the dump. Reliable Hauling out of Fairfax does a superb job.

Now the house is ready for real estate prep. You do not need to be completely remodeled and intricately staged. The most common prep for selling in this scenario is to make sure the house is clean, broken items fixed, and perhaps some paint, flooring and landscaping. Your SRES will have all the right vendors, and will coordinate them in accordance with your wishes. Then we do "staging" to help show how spaces are used, followed by professional photography. Then to market, and most of the time a quick sale!

The Team approach to a Mature/Senior move is the best way to pull together all the appropriate tasks, take the stress down as much as possible, and help those moving be as comfortable as possible. It is always done according to your wishes, and in close coordination with you and anyone you have looking over your shoulder. Having a good Seniors Real Estate Specialist to coordinate the Team is a must.

Retirement Living Sourcebook – describes most of the communities in our area.
Certified Senior Advisor – helps match you to the right community.
De-clutterer – helps clean out the accumulated non-essentials.
Move Manager / Senior Moving Company – helps plan the new space and unpack/organize at the new place.
Seniors Real Estate Specialist – assist with each step above, then with preparing the house for market.
Article by Peter B. Crouch
2018 Recipient of the National "Outstanding Service Award" from the Seniors Real Estate Council of the National Association of Realtors
Associate Broker, McEnearney Associates, Inc., NVAR Lifetime Top Producer
703-244-4024
|
PCrouch@McEnearney.com
|
CrouchRealtyGroup.com
|
Facebook.com/CrouchRealtyGroup